Posted by Josh Silverman on 24th Mar 2021
.50 Caliber Paintball
Fifty caliber paintballs and paintball equipment might seem new to the world of paintball, but there have been .50 caliber paintballs and paintball guns to shoot them since the early days of the game! That said, once the industry standardized to .68 caliber paintballs and equipment, most other calibers fell by the wayside. Those days are over, and .50 caliber paintball is back in a big, and very important, way! .50 caliber paintballs and .50 caliber paintball equipment are more important to the game than ever, as low impact paintball gear truly helps our game grow!
Most serious and experienced paintball players enjoy the game from the woods to tournament paintball fields with .68 caliber paintballs and the gear designed for that caliber. However, .50 caliber paintball has been rediscovered as an amazing way to introduce paintball to younger audiences and new players! The benefits of .50 caliber paintball, now also widely known as Low Impact Paintball, include less felt impact by players as .50 caliber paintballs are lighter and smaller, thereby transmitting lest impact energy into their target; that means a more enjoyable paintball experience for new and young players, plus smaller, lighter and more affordable equipment! When it comes to .50 caliber paintballs and .50 caliber paintball guns, Valken has everything a player or field owner will need to enjoy low impact paintball!
The scientific concept behind .50 caliber paintball and low impact paintball is a simple one: a .50 caliber paintball is smaller and lighter than a .68 caliber paintball so even when fired at the same speed, it will land with less impact energy. That means the impact from the .50 caliber paintball that a player might feel when hit during a game is much less, and that translates into a lot more fun for players new to paintball as they learn the game and feel that amazing adrenaline rush! Players having more fun, means players coming back for more fun and that helps paintball grow!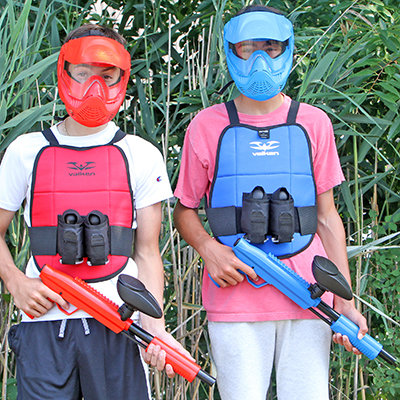 Low impact paintball and .50 caliber paintball can be played using various types of equipment, including spring-powered paintball guns like Valken Gotcha gear, that uses a spring-powered pump paintball gun to fire .50 caliber paintballs or reusable foam balls at low velocity, or with .50 caliber paintball guns that use hoppers and air tanks like their .68 caliber big brothers. Many paintball companies either make .50 caliber paintball guns, or make conversion kits allowing their existing models to be converted from .68 caliber to .50 caliber and back again! Paintball guns shooting .50 caliber paintball guns use much less air to fire .50 caliber paintballs at similar or lower velocities, allowing the use of smaller and lighter air tanks, and the .50 caliber paintball hoppers on top of these guns can be made much smaller as well, making the entire package a small, light setup that's easy for new or younger players to carry, shoulder and shoot!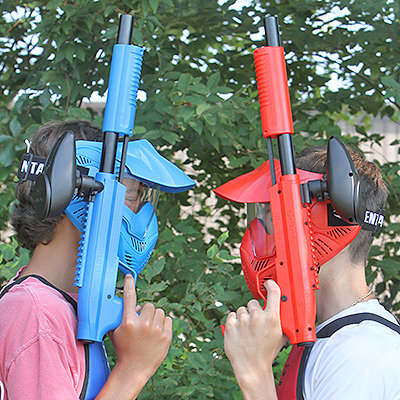 Some of the most popular .50 caliber paintball gear, and low impact paintball equipment available at Valken includes the full line of Valken Gotcha gear. Valken Gotcha gear includes two full lines of low impact paintball equipment including spring-powered pump paintball guns, paintball goggles, paintball hoppers, and even chest protectors, pouches and pods! Players and paintball fields using Valken Gotcha gear can select red and blue equipment, allowing all players to quickly and easily determine the team each player is on, and Valken Gotcha paintball goggles even feature an extra safety goggle strap over the player's head to ensure goggles stay in place even on younger players that other paintball goggles may not fit!
Moving up from low impact paintball to standard .50 caliber paintball gear to include paintball guns, hoppers and air tanks, Valken carries the simple, light, accurate and easily-maintained GOG eNMEy .50 caliber paintball gun and the .50 caliber Planet Eclipse Etha, for fast-shooting electronic performance, along with .50 caliber paintball hoppers, small air tanks like 13 cubic inch 3000psi and 26/3000 paintball air tanks, that allow for plenty of shots in a small, light, compact size! There are even .50 caliber paintball pistols like the Umarex TR50 revolver and the Valken-exclusive Combat Grey Umarex TR50 revolver available!
.50 caliber paintball has found a wonderful niche in the world of paintball as a fun, affordable, low-impact way to introduce new and younger players to the game! Whether played low impact style with Valken Gotcha gear, or as full-blown .50 caliber paintball with the standard air powered .50 caliber paintball guns and gear, .50 caliber paintball is a great and welcome addition to the game!