Posted by Joshua D. Silverman on 6th Apr 2023
Affordable Paintball Guns from Valken!
Valken offers affordable paintball guns for affordable paintball fun!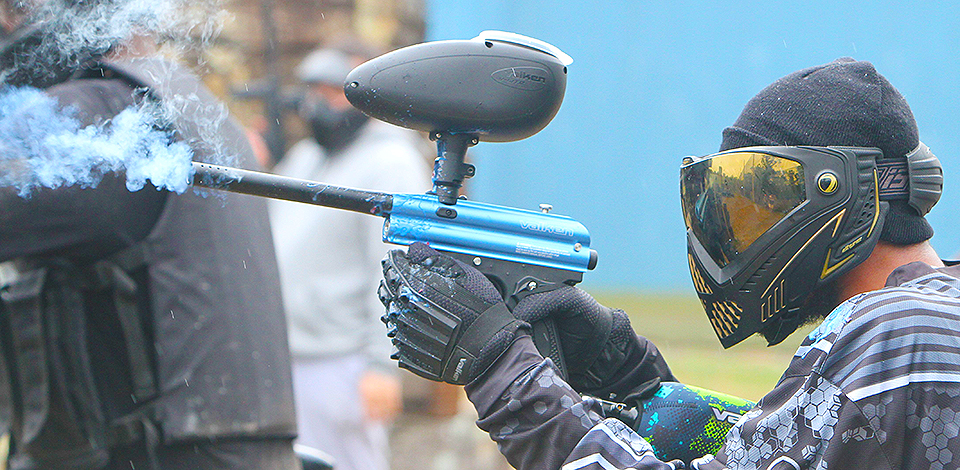 For those who have just started off on their paintball adventure, whether with a birthday party or company outing with a group of friends, paintball can seem like an expensive game to gear up for. However, with the right paintball equipment from the right paintball company, paintball can be enjoyed affordably and safely! Valken is the right paintball brand, and Valken makes a wide range of affordable paintball guns for affordable paintball fun!
Valken Razorback
When it comes to an affordable paintball gun that offers performance and quality far above that of a cheap paintball gun, the Valken Razorback delivers! A lightweight, compact and feature-packed paintball gun, the Razorback is a semi-automatic firing as fast as the shooter can pull the trigger, powered by either compressed air or CO2! Threaded for readily-available Spyder paintball gun barrels and complete with a clamping, vertical feed neck, quick-pull Delrin bolt for simple maintenance, a rear velocity adjuster and featuring a double trigger for higher rates of fire, the Razorback paintball gun is available in a rainbow of various colors ! For paintball players on a budget or anyone in search of an affordable paintball gun that outshoots the cheap paintball guns of the world, look no further than the Valken Razorback!
Valken Blackhawk
The ultimate combination of rugged, reliable paintball gun performance at an unbeatable price is the Valken Blackhawk! This reliable paintball gun is built from the ground up to deliver rugged, durable performance shot after shot, game after game with little more than simple maintenance, and offers aggressive SMG styling complete with adjustable open sights, a Picatinny top sight rail for scopes or a red dot sight, and an adjustable, removable vertical foregrip! Other top features of the Valken Blackhawk paintball gun include fast-firing semiautomatic performance, a stainless steel external air line, an adjustable clamping hopper adapter, and a Tippmann A5 threaded barrel that is easily upgraded. As an added bonus, the Valken Blackhawk will deliver reliable performance in all kinds of weather conditions when used with either CO2 or compressed air. Lightweight yet rugged, simple yet reliable and easily upgraded with a myriad of Valken accessories like barrels, scopes, sights, grips, shoulder stocks and Whiskey, Tango and Foxtrot Blackhawk upgrade kits, the Valken Blackhawk is the ideal tactical paintball gun for paintballs on a budget!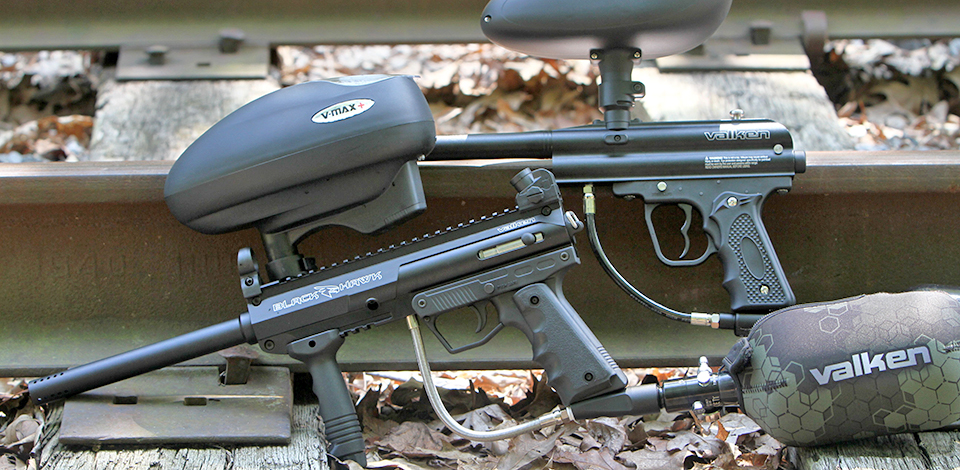 Valken M17
Valken knows paintball. That means Valken knows one of the fastest growing and most exciting segments of modern paintball is magfed paintball! Tactical paintball played between squads of operators carrying magazine fed paintball guns, magfed paintball encourage players to rely on teamwork, tactics, movement and accurate shooting as players carry limited amounts of ammunition and must make every single shot count! If this sounds as thrilling to you as it does to us, but you're wondering if magfed paintball is affordable, Valken has the ultimate affordable magazine fed paintball gun, the Valken M17! Compact yet delivering potent firepower with features far ahead of magfed paintball guns costing hundreds more, the Valken M17 magfed paintball gun uses compressed air as a power source and can fire in either semi-automatic or in a mechanical fully-automatic mode right out of the box! Able to feed either round .68 caliber paintballs or shaped, stabilized First Strike rounds for added range and accuracy, the Valken M17 magazine fed paintball gun features a flat top sight rail, plenty of accessory rails on the shroud, an upgradable barrel and an ambidextrous release for the 18 round box magazine! Affordable, advanced and fiercely capable, the Valken M17 is the ultimate affordable magfed paintball gun!
Whether you're playing in the back yard with friends, at the local paintball field or traveling to major paintball scenario games and big games at paintball field destinations around the country, Valken delivers affordable paintball guns for every budget that outshoot the competition! For affordable paintballs, paintball accessories and the best paintball guns for sale online, Valken is your one-stop paintball shop!