Posted by Joshua D. Silverman on 5th Apr 2023
Best Beginner Paintball Guns
Get Started with Style with Affordable Paintball Guns from Valken Paintball!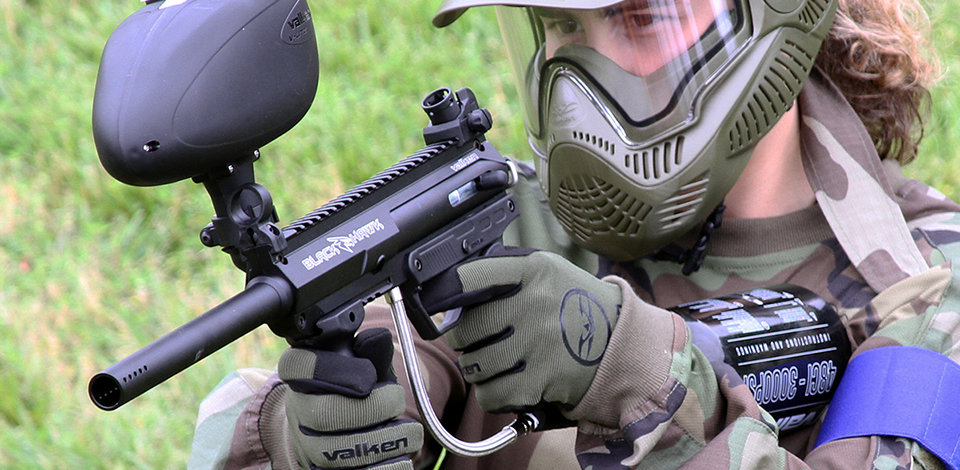 It finally happened! You wound up at the paintball field with your church group, a paintball birthday party or a group of friends and now, just like the rest of us, you're hooked for life! The safe, exciting adrenaline rush of paintball is like nothing you've experienced and you want to see how far you can go! While you were at the paintball field you saw everything from the rental paintball equipment you were handed over the counter to bright, colorful tournament paintball guns and players dressed in everything from ghillie suits armed with magfed paintball guns, to paintball athletes running drills and practicing on a turf field with inflatable bunkers. But the question seems daunting – what is the best beginner paintball gun? With cheap paintball guns costing barely a hundred dollars at one end of the pro-shop wall all the way to electronic paintball guns and tactical magazine fed paintball guns that look like the real deal at the other, what paintball gun is best for a new player? Don't worry! Valken has the best paintball guns for anyone ready to hit the field with their own paintball equipment and fall in love with the game!
Whether you're looking for a starter paintball gun that's bright and colorful like those you saw competitive players using, or you can picture yourself in camouflage, crawling through the woods to make the shot and capture objectives with a new paintball gun that's more tactical and rugged, Valken has the best beginner paintball gun for you and all the paintball gear and accessories you'll need to hit the field and make paintball whatever you want it to be! That's the beauty of paintball, by the way – whether you're looking for the next competitive sport to challenge your mind and body as you become the best you can be, or you're looking to gear up in tactical military paintball gear with a magfed paintball gun and operate, along with plenty in-between like just having fun with friends, paintball has a place for you and Valken Paintball can help you find it! Valken makes affordable paintball equipment and paintball guns that can help any player find their way in the game, like the light, compact, colorful and feature-packed Valken Razorback paintball gun or the tried, tested and tough Valken Blackhawk tactical paintball gun that can be upgraded into a tactical paintball workhorse! If a magazine fed paintball gun is what you picture in your hands, Valken can help there too with the Valken M17 magazine fed paintball gun!
---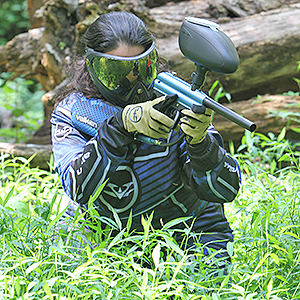 Valken Razorback

When it's time to hit the paintball field with an affordable paintball gun that still packs a punch and offers plenty of standard features, the Valken Razorback is a great choice! Lightweight and simple to use, the Valken Razorback is available in red, blue or black to suit any player's style and offers features like a vertical feed neck to reduce ball breakage and increase rates of fire, a double trigger for faster shooting, a bottom-line air adapter with a durable stainless steel hose, a rear velocity adjuster that's simple to use to keep the paintball gun shooting safely, and it's easy to clean thanks to its quick-pull bolt! The Spyder threaded barrel can easily be upgraded for improved accuracy and range and the Razorback paintball gun even features a self-centering cup seal for improved consistency and performance! If the lightweight, compact and affordable Valken Razorback paintball gun sounds like the place you want to start, grab a set of Valken paintball goggles like our fog-free Valken MI-7, a Valken V-Lite hopper for your paintballs and a Valken 3000psi 48cubic inch paintball air tank and you're ready to load up and hit the field!
---
Valken Blackhawk
Maybe bright and colorful isn't your thing when you picture yourself playing paintball. Maybe you see yourself as more of a paintball sniper, crawling through the woods and creeping through the brush to make a shot. Great news – Valken also has the best beginner paintball gun for a player with plenty of camo in their future adventures, the Valken Blackhawk! Time-tested and built tough to handle any playing conditions from hot and muggy summer games to chilly winter paintball and everything in-between, the reliable and durable Valken Blackhawk is ready to rock right out of the box but can also be built, upgraded and modified with Valken Blackhawk parts and upgrades to build the ultimate tactical paintball gun for your mission specifications! The Blackhawk paintball gun features a flat-top sight rail and an off-set feed neck allowing a shooter to sight down the top of their paintball gun and even mount a scope or red dot sight, while another accessory rail at the bottom is home to an adjustable vertical foregrip, and the semi-automatic Blackhawk can fire as fast as the shooter can pull the trigger! Upgrades available for the Blackhawk include complete kits with new barrels, shoulder stocks and shrouds to create a straight-shooting tactical paintball gun with a modern, aggressive look and all it takes to get the Blackhawk paintgun out of the box and into the battle is a Valken 3000psi 48 cubic inch paintball air tank, a Valken V-Lite hopper and a good set of Valken paintball goggles like the camouflage MI-7!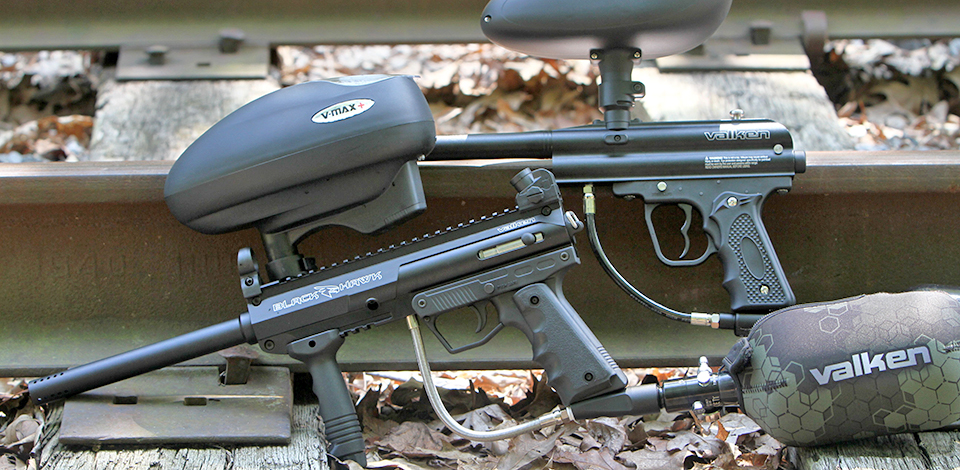 ---
Valken M17 Magazine Fed Paintball Gun

If magazine fed tactical paintball operations is where you see yourself playing the game, Valken has what it takes to clear the area of hostiles and accomplish your mission! The Valken M17 magazine fed paintball gun takes tactical magfed paintball to a new level of affordable performance! The tough and reliable Valken M17 magfed paintball gun feeds from a box magazine that can feed either round .68 caliber paintballs or spin-stabilized First Strike rounds for added range and devastating accuracy, the flat-top receiver is begging for a red dot sight or rifle scope and the standard quad rail is standing by for accessories like a Valken red laser, a green laser sight, a tactical light like the Valken 500 lumen LED tactical light and a Valken Tango foregrip! Best of all, the high-tech Valken M17 paintball gun is standard with semi-auto and fully-automatic capability! Valken M17 barrels with internal rifling are available in various lengths to improve accuracy, a hopper adapter is available for players who may wish to cross over from hopper-fed to magfed games, and replacement shoulder stocks allow the M17 to be modified into the ultimate magfed paintball gun! Grab a Valken 13 cubic inch 3000psi paintball air tank, a few spare magazines, some Valken paintball goggles and move to the objective!