Posted by Joshua Silverman on 22nd Jul 2021
Building a Valken CQMF for Mag-Fed Paintball!
Create the best mag-fed paintball gun for tactical paintball!
The Valken CQMF has arrived and is already turning heads in the staging area and shooting faces on the field! This advanced magfed paintball gun offers a long list of standard features, a sleek, tactical look, rugged construction and capable performance right out of the box, but with the right accessories and upgrades the CQMF can accomplish any mission! From barrels and scopes to the proper ammo and air options, the CQMF offers superior magfed paintball performance at a great price!
Air Options
The Valken CQMF Magfed paintball gun is ready for a paintball remote line right out of the box! This allows the paintball gun to be compact and lightweight, as it moves the air tank off the back of the paintball gun and into a pouch on the player's pack, harness or loadbearing vest. This means the right paintball remote, and the air tank at the other end of that remote, are critical choices to ensuring the best CQMF operates at its best! A coiled remote line like the Valken remote coil with slide check, is the ideal choice as it can extend, contract and move with the shooter, while staying close to the player's body to avoid snags on items in the environment a player finds himself moving through. The Valken remote line offers a slide check that allows a player to turn their air off without degassing the remote, making handling the paintball gun in the staging area or at the air station much easier!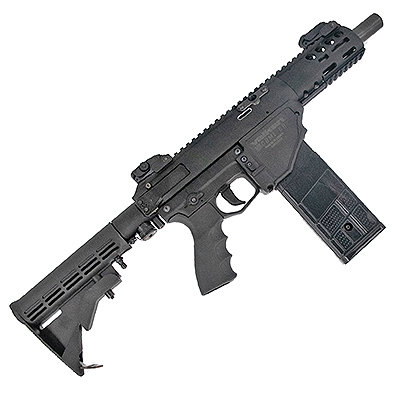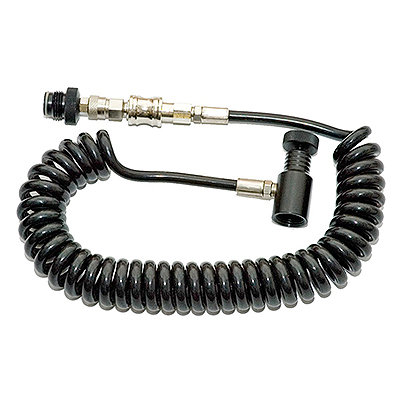 With the proper paintball remote line selected for the CQMF magfed paintball gun, a player can decide what paintball air tank is going on the other end of that remote! Players enjoying magfed tactical games at the local field can keep their setup light with a smaller, lighter air tank, though it will provide fewer shots, as games like these rarely last more than a few minutes with only a few magazines fired. However, as the CQMF is capable of both semi-auto and fully automatic fire, a 4500psi air tank with an 800psi output pressure is recommended to power those high rates of fire at full velocity for every shot!
Should a player decide to take their CQMF paintball gun into battle at major scenario and big game events, where the games can last all day or even all weekend, a larger air tank may be a better choice! While a larger tank, like a 68 cubic inch, 4500psi paintball air tank may be a bit heavier than smaller options, a player will be able to really load up on magazines and roam the field for hours without the fear of running short on air during an intense battle!
Sights & Scopes
The Valken CQMF offers players the ability to quickly and easily upgrade from open sights to any scope or sight that will fit on the paintball gun's flat top, picatinny rail! For players who want precision with quick target acquisition, that means a red dot sight and Valken offers plenty of options, from affordable and simple red dots to high tech optics ready for rugged combat in close quarters battle scenarios! Valken red dot sights allow shooters to quickly bring their CQMF paintball gun up and onto target in all light conditions for fast, accurate shooting!
For mag-fed paintball players who prefer to do a little more creeping and play their paintball at a slower pace and longer ranges, a scope might be a better option! As the Valken CQMF is ready to feed First Strike rounds right out of the box, and is therefore capable of devastating range and accuracy that many other paintball guns can't touch, a rifle scope like the Valken Variable Zoom 1-4x20mm model is an outstanding choice that will allow the shooter to take full advantage of the CQMF and its accuracy and range capabilities to influence the fight and dominate the battlefield!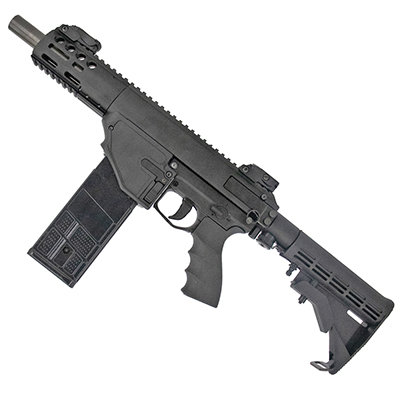 Ammo Options
A magfed paintball gun, especially a high-performance mag-fed paintball gun like the Valken CQMF, is only able to function as well as the ammunition that's fed through it! Even the most expensive, highest-quality magfed paintball guns in the world will deliver frustrating, disappointing performance when fed substandard or poor quality ammo, so making the right choices for feeding the beast is critical! Many serious tactical paintball players and scenario shooters will opt to run First Strike rounds through their Valken CQMF to squeeze every ounce of accuracy and range from the platform, and the uniformity and shape of First Strike rounds contribute to positive feeding and function shot after shot in varied weather conditions.
However, not every game, playing field or player will have the option of First Strike rounds, making high-quality 68 caliber paintballs the other option for feeding the CQMF. Cheap paintballs should never be used in the Valken CQMF, as feeding, consistency and accuracy will be affected. When it comes to round .68 caliber paintballs, a player really does get exactly what they pay for. High quality paintballs are manufactured with greater care and quality control, meaning they will each be rounder and will then feed better through magazines, shoot more consistently over the chronograph, and fly straighter towards a target. Accuracy in magfed paintball is everything! So when it comes to round paintballs for the Valken CQMF, choose quality paintballs like Valken Graffiti or Valken New World! These paintballs are round, will feed well, fly straight and break on target with less chance of breaks in the paintball gun or in the barrel, giving the mag-fed player a better chance for a hit with each and every trigger pull!
The Valken CQMF mag-fed paintball gun is a tough, high-tech machine ready to take on any battle a paintball player may face! With the right accessories and the best paintballs, the CQMF is the ultimate paintball gun for magfed and the tactical, scenario battlefield!