Posted by Joshua D. Silverman on 6th Apr 2023
The NEW Gelblaster Surge!
Updated and Improved for Even More FUN, the new GelBlaster Surge is Better than Ever!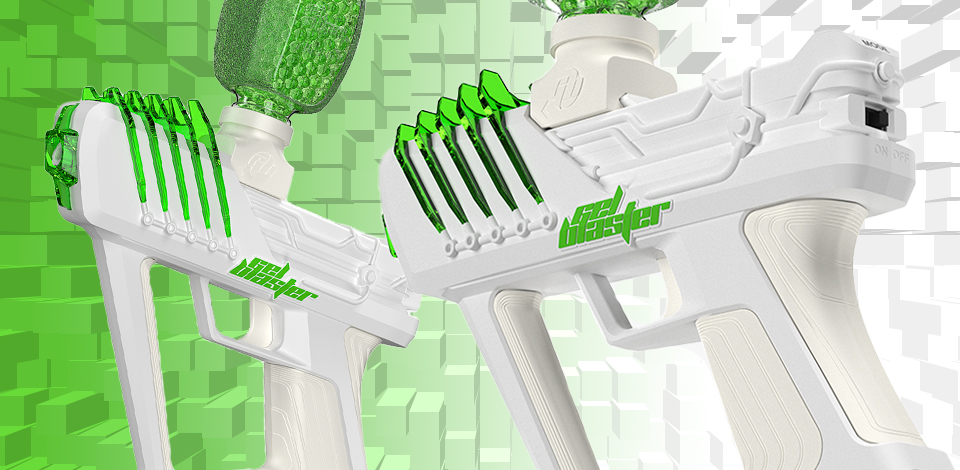 Already a massive worldwide hit thanks to its amazing mix of clean, simple, affordable FUN, the GelBlaster Surge and its accompanying line of Gel Blaster Gellets and accessories are taking the world by storm! Now, GelBlaster has taken the Surge to a new level of versatility with new features and a new look, meaning even more fun for everyone. So dump some gellets into the water and get them growing because it's time for even more environmentally friendly, safe GelBlaster action for the whole family!
The newly updated GelBlaster Surge isn't just a new look or a new color for the best GelBlaster gun on the market! Rather, the safe, sting-free enjoyment of jelly ball games is even more inclusive and fun than ever thanks to a list of new features that make this already massively inclusive and accessible phenomenon enjoyable for practically all ages! The new GelBlaster Surge is delivered with everything needed to get blasting fast – that's not new. Included with the Gel Blaster is a USB charging cable to charge the internal battery, safety glasses, a hopper and a small pack of Gellets gel ammo! The new Surge blaster is standard with green fins and a matching green barrel tip, and both are still easily replaced with various other colors available as accessories to suit any player's color preference or to help divide teams. The standard Gel Blaster hopper has been greatly improved for increased durability, but still threads like earlier models and holds approximately 800 hydrated Gelblaster Gellets blaster ammo. While it may wear an updated white and green look, what hasn't changed is that the GelBlaster Surge is a rugged, reliable model that offers increased safety and feel-good fun by looking more like a futuristic laser blaster and nothing like a gun of any kind!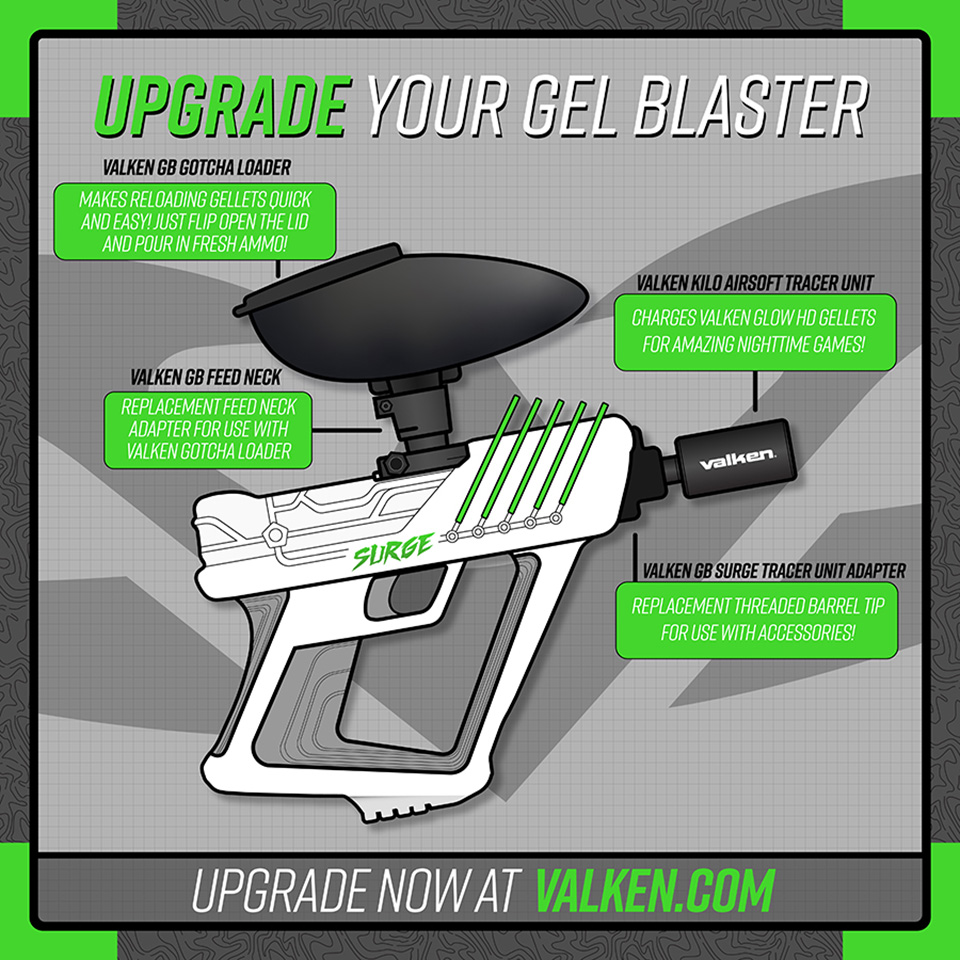 The big upgrades to the new GelBlaster Surge come on the inside! While the original Surge blaster was delivered with a single firing mode – fully automatic – the new Surge offers players the ability to switch from fully-automatic gel blasting to semi-automatic shooting, perfect for younger or newer players not quite ready to get pummeled with flying gel balls! This, in concert with the other big change for the new GelBlaster jelly ball gun, its adjustable velocity, makes the Surge and the entire GelBlaster game even safer and friendlier for younger blasters! Want to start the kids blasting but think a fully automatic blaster blasting at around 150 feet per second is a bit too much? Now it's no longer an issue! Simply push the button at the rear of the blaster to shift into semi-automatic mode so they can't run around with the trigger held down and have to pull the trigger for every shot, and dial back the velocity through the top of the body to shoot under 100 feet per second! When the blasters are ready for a more intense game and need a little more velocity and higher rates of fire, a push of the button kicks fully automatic mode back in and the velocity can be pushed back up to around 150 for a little more reason to duck, dip, dive and dodge!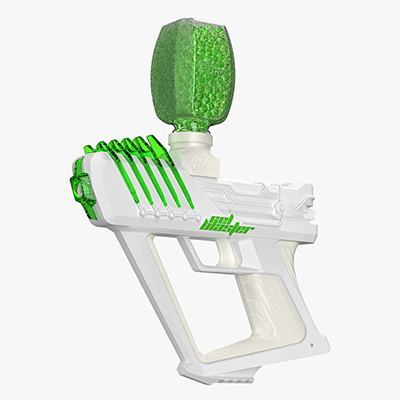 A refined look, updated features and increased accessibility add up to one thing for the new GelBlaster Surge gel ball blaster – MORE FUN! Already eco-friendly thanks to its water-hydrated Gel ammo and practically mess-free, GelBlaster games played with the new, updated and refined Gel Blaster Surge are more fun than ever, and that's before the addition of Valken GelBlaster Surge accessories! That's right – the full line of Valken GelBlaster Surge upgrades will function with the new Surge blaster, like the tracer adapter tip to allow use of Valken GLOW HD glow-in-the-dark GelBlaster gellets and the Valken GB Gotcha hopper and clamping feed neck adapter, that convert the feed system of the GelBlaster Surge to a convenient flip-lid hopper that holds even more gel ammo for hard core blasting fun!
When it's time to gear up for gel blaster games with the improved and updated new GelBlaster Surge and the entire line of GelBlaster and Valken products, whether you're buying for the kids and back yard fun, yourself and the gang for some workplace hilarity, or your business to attract more customers for more fun for all ages, Valken has it all!