Posted by Joshua D. Silverman on 5th Apr 2023
New Valken M17 Black/Desert Tan Model
The Valken M17 magfed paintball gun adds a new black/desert tan color combo for added versatility!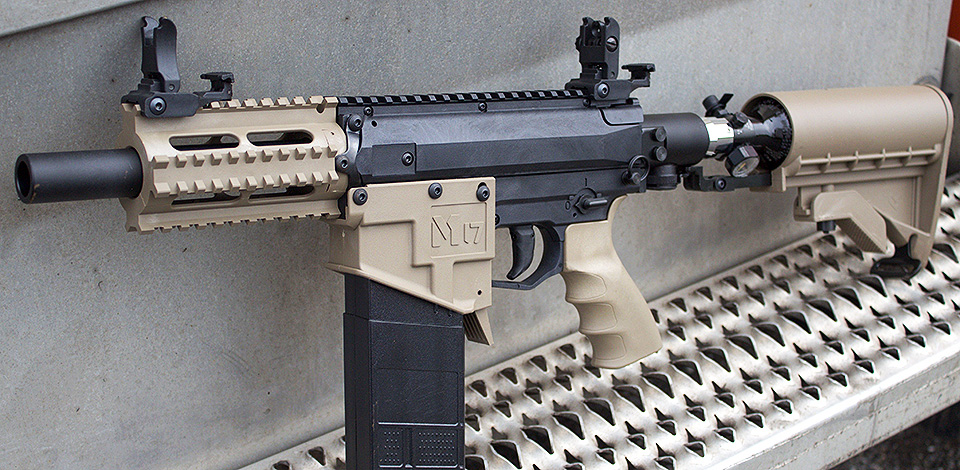 For years the Valken M17 magazine fed paintball gun has done battle in the hands of magfed paintball players around the world, proving that the best magfed paintball guns don't have to be the most expensive! Affordable yet packed with features and able to be upgraded and adapted with M17 accessories and parts to suit any operator's specifications or magfed paintball mission loadout, the Valken M17 delivers an unbeatable mix of performance and features at a great price! Now, the Valken M17 magfed family has grown with the addition of a factory black/desert tan model ideal for tactical woodsball operators looking to break up their silhouette or anyone looking to join the Valken M17 family with a color that isn't basic black! Featuring a new look with the same great mix of top features and a price that sets it apart from the competition, the Black/Desert Tan Valken M17 magfed paintball gun is ready for action!
It's no secret that the Valken M17 combines the most desirable features in magazine fed paintball guns with a price that puts it within reach of paintball players on any budget! In fact, we just mentioned that in the last paragraph. While it remains one of the most affordable magfed paintball guns in the world of paintball, the Valken M17 delivers reliable performance and a potent punch that elevate it high above cheap paintball guns, while remaining more affordable than many other paintball guns that offer fewer features! With the release of the new Black/Desert Tan Valken M17 model, magfed paintball players now have the option of stepping up to the M17 platform and doing it in a color combination that is excellent for woodsball environments, desert and mountainous settings often found in West Coast paintball, or for simply looking amazing walking through the staging area at the local paintball field!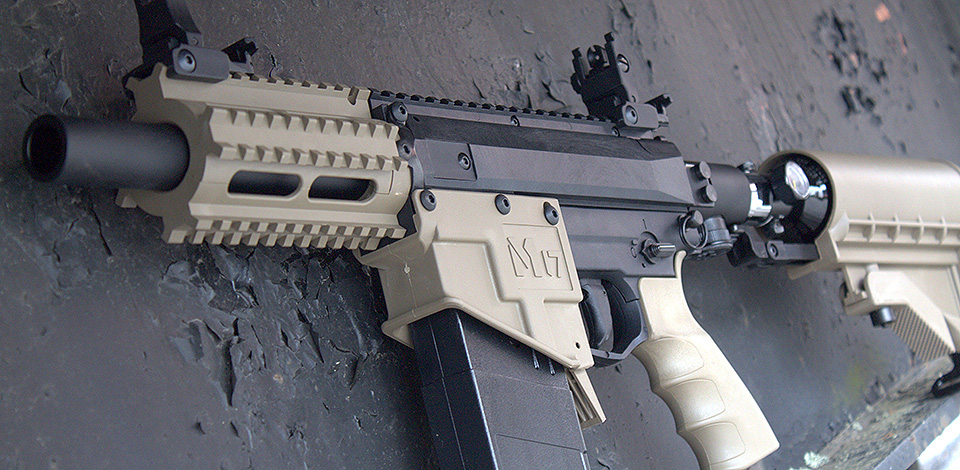 Like its older brother, the basic black Valken M17, the new desert tan/black Valken M17 offers an impressive list of standard features that paintball players at any level of the game are certain to love. Operating on compressed air for the ultimate efficiency and consistency, the tan Valken M17 features an adjustable shoulder stock and an advanced, mechanical operating system that offers both semi-automatic shooting and fully automatic shooting at the flip of the selector switch! Fed from an 18 round magazine that feeds both round, 68 caliber paintballs or First Strike rounds, the M17's magazine release is ambidextrous allowing left or right-handed shooters the ability to easily manipulate the controls of the paintball gun for optimum function. A flat-top sight rail accepts practically any red dot sight or scope, allowing shooters to build their ideal loadout to take full advantage of the platform's accuracy and consistency at close range in paintball CQB environments all the way out to long-distance engagements with First Strike rounds. This capability is further enhanced by available Valken factory upgrade M17 paintball gun barrels, including an 11.5 inch internally rifled model and a longer, fluted 15.5 inch barrel that is also rifled. The handguard of the Valken M17 offers plenty of Picatinny mounting rails, again allowing owners to customize or upgrade their paintball gun with M17 accessories from Valken like foregrips, tactical lights and laser sights! Finally, for those who might play magfed paintball but may wish to swap over to use a paintball loader for increased ammo capacity, the M17 can easily be converted from mag-fed to hopper feed in minutes! All these features, mated with rugged construction, make the Valken M17 one of the best magfed paintball guns in the world at any price!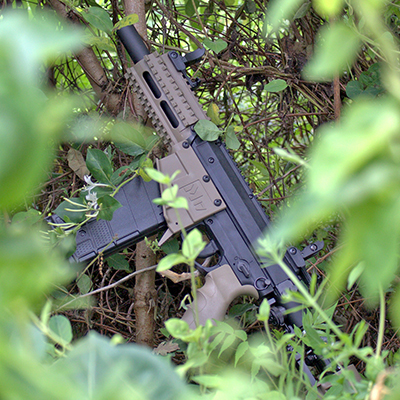 Now available in black or in the brand new desert tan/black combination to suit any magfed paintball player's needs, loadout specifications or uniform requirements, the Valken M17 delivers a mix of performance, capability, features and price that is unbeatable in magfed paintball! Don't settle for just another cheap paintball gun or worry that high performance magfed paintball guns are too expensive – choose the Valken M17 magazine fed paintball gun, build and accessorize it your way, and let Valken help you eliminate the opposition, take the objective and WIN!