Posted by Joshua Silverman on 17th Sep 2021
Valken M17 MagFed Paintball Gun Review
An Affordable Magfed Paintball Gun Powerhouse!
Magfed paintball continues to grow in popularity thanks to the excitement of its truly tactical playing style, the reduced cost of paintballs used throughout a day of play, and the fun of building the perfect magazine fed paintball gun and equipment loadout! Paintball has always been a gear-driven culture and nowhere is that more evident and enjoyable than in the world of magazine fed paintball, thanks to the amazing equipment used to enjoy the format and the ability to specifically tailor a magfed paintball gun and the rest of an equipment loadout to perfectly suit each individual player. When it's time to put the hopper-fed paintball gun aside and step into the world of magfed paintball, a serious player will need the best magfed paintball gun and the Valken M17 is a rugged, reliable and affordable magazine fed paintball gun that can handle any mission!
Magfed Performance
Capable and packed with features at a price any paintball player can afford, the Valken M17 is a magfed paintball gun that delivers performance and versatility unmatched by other paintball guns costing hundreds more! Built tough, the M17 is capable of feeding and shooting both round .68 caliber paintballs AND First Strike rounds right out of the box! In addition, while most other magfed paintball guns are semiautomatic only, the M17's switch can be spun all the way over to "rock and roll" for fully automatic shooting! Powered by a unique, high-tech blow-forward operating system for superior consistency and accuracy, the M17 magfed paintball gun is fed by an 18 round magazine, and the mag release is ambidextrous, easily accessed with either hand for faster reloading in the heat of battle. Accessory rails surround the barrel on the handguard, allowing accessories like foregrips, lights and lasers to be added, and the standard flip-up sights can easily be replaced with a scope or red-dot optic on the Picatinny sight rail running along the top of the receiver!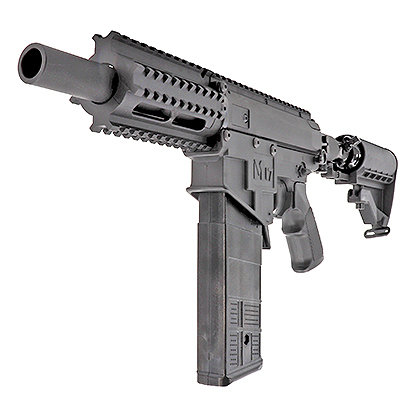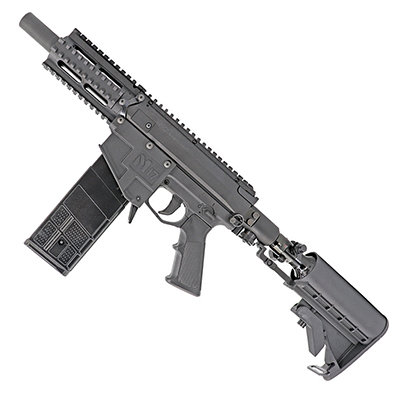 Versatile & Capable
Utilizing compressed, high pressure air as a power source, the Valken M17 requires a small paintball air tank to power up and hit the field. A 13 cubic inch, 3000psi compressed air bottle slides easily into the adjustable stock at the rear of the M17, but Valken does offer other options like air-through stocks should a serious operator want to switch to a larger air tank and run a remote line. When it's time to load up with paintballs, a player should always take care to use the best paintballs available, as a consistently round paintball with a high-quality shell is essential to feeding and firing .68 caliber paintballs through the M17 and its magazine. Valken recommends either New World or Valken Graffiti paintballs for this purpose, while .68 caliber First Strike rounds can also be fed and fired for longer range and greater accuracy. For the utmost accuracy and consistency, players may consider swapping the stock barrel from the M17 with a longer version with a tighter bore, or a Valken Ammotech ATX-9 barrel as it is compatible with Freak XL inserts, allowing the player to tailor their bore size precisely to the type of paintballs being fired or to compensate for climate conditions like heat or humidity.
Rugged & Reliable
Paintball players looking to build a capable magfed loadout around the M17 have plenty of options to consider! Once an air source like a 13 cubic inch, 3000psi compressed air tank is added, or something larger with a remote line option, players can swap to an air-through stock and carry their air tank on their loadbearing gear to make the M17 lighter, more compact and easier to handle. If a shooter plans to engage at longer ranges using First Strike rounds, a red dot sight like a Valken RDA20 is a great option and can be augmented with a Valken 3x flip-to-side magnifier to enable both close and long-range accuracy and capability! Many serious mag-fed shooters will also add a longer barrel, then a vertical fore-grip, and cap everything off with a stack of extra magazines – a necessity as only one magazine is included in the M17's box. Finally, as the fully assembled Valken M17 paintball gun will no longer fit in the box it's delivered in, a player can consider a Valken gun bag to make transporting and storing their M17, spare magazines and accessories easy and safe!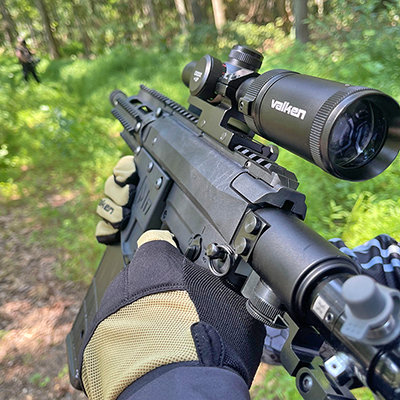 Time-tested, reliable and capable, the Valken M17 magfed paintball gun delivers performance and quality at an affordable price! Whether it will be used for magfed tactical paintball, operating in large paintball scenario games, or even for home defense or law enforcement applications, the Valken M17 is easily adjusted, maintained and accessorized for any mission. When it's time to take magfed paintball seriously and gear up to dominate the battlefield with the best magfed paintball gun, reach for the full auto firepower of the Valken M17!